This spring, a significant birthday and our 12th anniversary prompted my husband to ask, "Wanna go to Sicily again?" I cried Æ a surefire indicator that his suggestion zoomed in like a smart bomb past all practical, cerebral, blockades, straight to my heart. We had gone to Sicily a month after we were married. My husband had wanted to show his bride the English Lake District and the windy moors of Scotland—his ancestral homes. When I said I'd much rather go to Italy, we giggled that our grandparents seemed to be planning our honeymoon. "Fine," he said, " let's do both!" So we took off for three months, first to visit friends in Florence, another two weeks in Southern Italy and Sicily, and a final jaunt to the cold northern isles of Great Britain. A near religious passion for Italian vividness beckoned me there. Also, as artists we wanted to see the world's best preserved Greek ruins, and vestiges of even more ancient civilizations that are to be found in Sicily. It was crystal clear that I couldnÍt get enough of the place and would long to return. Now, a dozen years closer to knowing one another, I wanted see how Sicily would strike me, what I would remember, and what I would see as if for the first time. With the plan to devote three glorious weeks, our only agenda this time around would be serendipity and our shared appetites for southern Italian food, antiquities, olive groves and the sea.
We flew into Palermo, via Milan, rented a car and began a meandering criss-cross of the island, initially lured by my natural attraction to the coastline. Southern California has been my home most of my life and salt air is in my veins. But beyond that, Southern Italy was home to my maternal grandparents, and anyone doubting genetic inheritance should visit their familial Old Country. On the ferry, in the market, at the seashore, I saw visages of my mother, my Uncle Louie, my little Aunt Katie. I am sure that on our honeymoon I saw those same faces but they registered in a more generalized way, as a backdrop to our first long trip together. Now, more comfortable with one another I seemed more able to look around and notice specifics —those same tanned olive complexions, the curly dark hair streaked with gold, and the Norman blue-green eyes betraying this as a land claimed through the ages by Greeks, Phoenicians, Arabs, and Romans —and felt an overwhelming kinship.
For me, there is no better food in the world than Italian, and no better Italian food than in Sicily. It is the home of the moist, linen-white mozzarella, made from water buffalo's milk, of centuries old olive trees twisting upward like sinewy muscles in a da Vinci drawing, wringing fragrant black beads of oil out of the parched volcanic soil. Sunlight colored lemons the size of grapefruits, lipstick red tomatoes, bitter thick espresso, crusty breads, often dappled with plump black olives, and a wealth of seafood cry out that this is indeed Demeter's island, the goddess of bounty.
While we were sitting in a simple caf³, dipping bread into a shared plate of golden olive oil, I realized that Sicily had changed for me. I was journeying on the wings of romance for the second time, but now I knew my consort so much better and simply allowed myself be transported in ways I hadn't before. We were learning the more homey side of intimacy, a familiarity that allows for things to unfold naturally, for observation to take the place of snap judgements.
Even the concrete bridges, which then seemed sinister and despoiling, mainly because of the Mario Puzo-like stereotypes I had inadvertently armed myself with the first time, now appeared like thin ribbons spanning huge valleys, a landmark from miles away, and I admired their engineering , and their boldness. The parking lot heaving with tour busses that once made me turn on my heels —as if in the eyes of the gatekeeper, I weren't just another tourist! — didn't deter me in the least from climbing the hundreds of steps to the hilltop ruin of Segesta. After years of travel with my husband, years that had imbued a wonder at peopleÍs ingenuity worldwide for making a living , we took the crowds in stride. I know crowds can be unbearable, but this time we had the good fortune of arriving at lunchtime, so, for several minutes, atop this windy hill, the space was ours.
Back in 1989 Segesta was less touristed and more serene. What I mostly recall from that visit. though, was that we quarreled, stomping all the way up the hill. So it was delightfully ironic that under these subsequent and less desirable conditions an epiphany came. Standing within the stone temple framework, unfinished and open to the wind, I felt an astounding physical comfort, as if I were standing inside of that elegant mathematical formula painters call the Golden Rectangle, a pleasing 3:5 ratio of infinite proportion.
Other ruins held their own treasures. The fallen temple columns of Selinunte seemed to float in a field of red poppies. Agrigento's nightly theatrical lighting of the Temple of Juno and of Concord, reminded me of the Hollywood Hills of my childhood, with the Greek Theatre or the Hollywood Bowl illuminated in the darkness.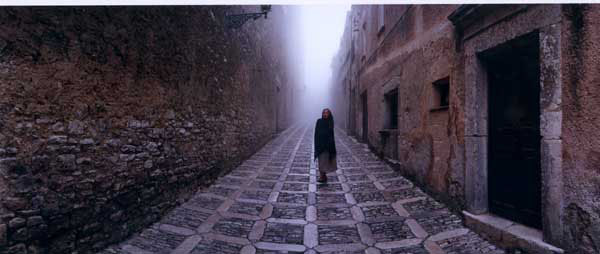 We took a meandering route from the coast through the Iblei Mountains, to re-visit the famous "bikini girls" of Villa Casale, at Piazza Armerina. Was it my imagination or had I really seen mosaics that looked like my aerobics classes? In the first century, upper-class Romans commissioned tileworkers to create floor murals from bits of multi-colored stone tesserae the size of baby's teeth. It took one person six days to complete a square yard of mosaic, and this villa was over 10,000 square feet, with elaborate mosaic "rugs" covering every floor. A plastic roof that recreated the original roofline of the Villa protected the handiwork and peering down at the pictures was like reading an illustrated edition of the Sunday paper complete with a fashion section, current events, historical reviews, entertainment and, of course, the sports page. Room after room of mosaics depicted charioteers, hunting and fishing expeditions, erotic scenes and gladiatorial pageants.
Then I spotted the eight Roman girls clad in bikinis. They threw a Frisbee-like discus, long-jumped with dumbbells in hand, raced, and volleyed a colorful ball—all events in the Olympic pentathlon. The over-the-top real estate, the in-home spas, the exercising bikini babes, seemed timelessly Californian. "Why among the rows of concession stands leading up to the villa," I said, "hasn't one vendor thought to sell bikinis printed with mosaic patterns?" "
"It's an idea whose time has come" he said, "You'd look great in one of those."
Our laughter softened into reverie. Sicily might be different, but we were the ones who had changed. It was in Erice that I learned what twelve years of marriage had brought: We were more open to each other as well as to the world.
The intimate size of Ortygia, our last stop, made it perfect for wandering from afternoon late into the night. Pink geraniums spilled from Baroque wrought iron balconies along Via Roma, fishermen coiled long ropes on the docks, lovers kissed in the alleys, nuns scolded fat cats and then fed them. At twilight the main Piazza del Duomo lit up and buzzed with activity. Friends and families reveled in small talk, kids shot by on Razor Scooters, and vendors scooped balls of glistening gelati. This Italian vignette seemed so vividly a part of my own childhood summers, where we played all day at the beach in Cape May, New Jersey, just as my mother had, with grandmother and aunts, cousins and sisters. At dusk weÍd walk back to the house, shower salt and sand off browned bodies, eat a bowl of spaghetti with sauce that had simmered all day on the stove, and then slip into our prettiest dresses. "Then," I told my husband, "we'd promenade along the boardwalk, make long stringy ropes out of salt-water taffy, and dance the Bunny Hop."
On our last night on the island as we walked along hand in hand, the smells of sea air, sugary sweets, perfume and home cooking mingled in a tangible stew of past and present sensation. It was a celebration of the moment, and the moment was abundant.
© Mary Heebner (expanded version)

view the Villas Series of paintings